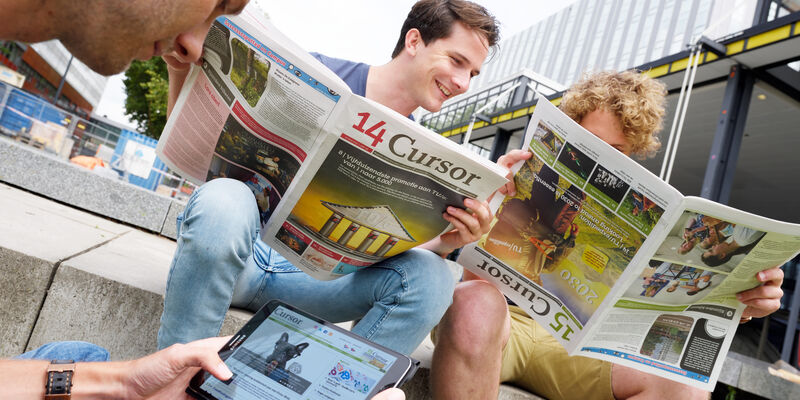 Cursor brings paper era to a close with 'specials'
Four special paper editions of Cursor will appear in the fall, after that the editorial team will be publishing its articles exclusively online from early 2018. The last 'regular' paper version of Cursor appeared 29 June. The new-look website will soon offer more space for news articles, attractive longreads, opinion pieces, and more visuals. Moreover, the visitor will have the opportunity to set preferences for certain types of article.
by
Judith van Gaal
The design of the new site is now complete and its construction is underway. Here, as of early 2018 you will find news items and background articles about TU/e of the kind you are accustomed to getting from us, but then with a hip new look with more emphasis on visuals (both photos and videos) and user friendliness. A new feature is the 'tag'. Tags enable you to set your preferences for particular subjects.
The entire website will be 'responsive', which means you will see the same thing whatever platform you are using (desktop, laptop, tablet and smartphone). As ever, our main aim will be to deliver independent journalism about the comings and goings at TU/e.
From September through December Cursor will publish four specials on paper. The theme of the first edition, scheduled for September 21, is 'How do I survive...?' This will have articles like, 'How do I survive my first exam?', 'How do I survive my first job?' and 'How do I survive the Stratumseind?' Do you have some ideas for us or would you like to contribute? If so, use the reply option below or mail us!
By and for TU/e's own people
The editorial team at Cursor is keen to increase its role in TU/e's community forming, which includes making the site more explicitly a platform for the entire TU/e community. As part of this, employees and students will become more involved in the writing of articles and the making of videos. A pool will be created of students and employees who regularly write for us and/or make short films.
You do not necessarily need to have any experience, just plenty of enthusiasm for making items - columns, for instance, or news articles or background stories. We will provide good guidance and, of course, payment will be involved. Keen to film and/or write for Cursor? Get in touch with us.