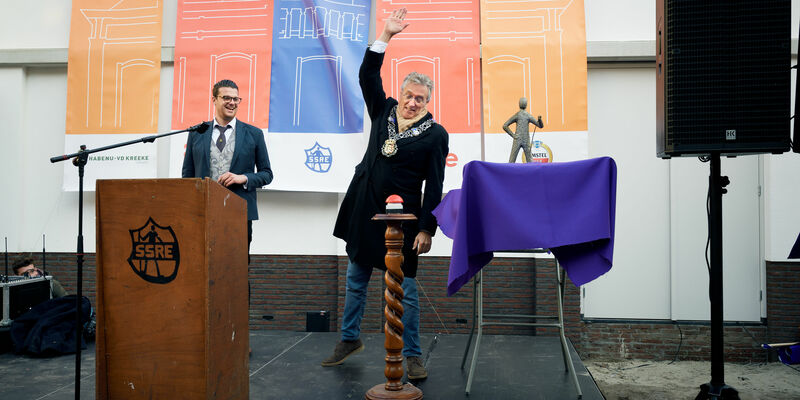 Thunderous applause for SSRE's new 'Bunker'
Recalling memories and swapping stories, a procession of a several hundred SSRE members, past and present, made its way Saturday afternoon, November 17 from the Bunker to Vestdijk. The procession on foot was held in advance of the official opening of the student association's new premises, with which a symbolic line was drawn under the lengthy relocation and renovation process.
Eindhoven's mayor John Jorritsma had the honor of declaring "the new Bunker on Vestdijk", as he referred to the remodeled residence, open on Saturday afternoon - with one press on the red button, the cutting of a purple ribbon and to "thunderous applause". All this took place at the rear of the building, because the Vestdijk at the front of the villa is currently the scene of major roadworks.
Earlier in the day, several current and former members of SSRE - among them its founders, representatives of TU/e and other partners had given talks. Freerunners and fire breathers provided a visual spectacle at the opening.
Read on below the video.
Afterwards the guests received a guided tour of the building, and a drink's party and dance party were held in the evening. On Sunday a glass was raised with local residents during a neighborhood drinks party, and throughout the rest of this week a glass will be raised to the new premises on several occasions. Tonight there's a themed party for SSRE's own members, on Tuesday a lavish dinner will be held at the new society premises, on Wednesday and Thursday parties will be thrown for students from outside SSRE.
On Friday evening the opening week will be brought to a close with an exclusive party for all those who donated to help make the earlier purchase of the monumental building for SSRE possible.
Our photographer Bart van Overbeeke was among those present at the opening on Saturday afternoon. Below you'll find his impression of the day.