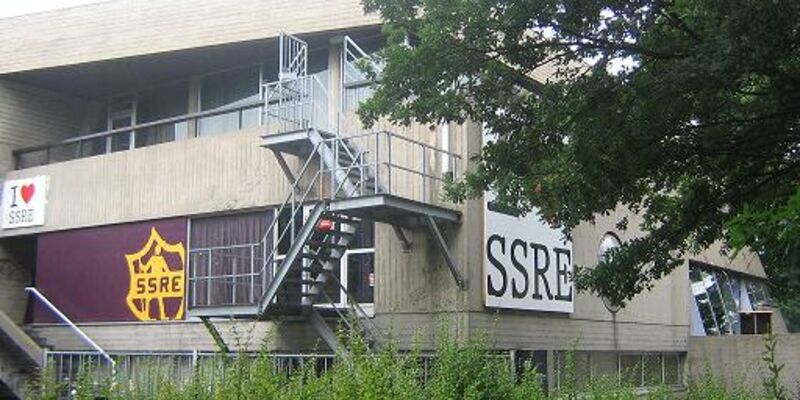 Deadline for SSRE, club seeks temporary premises
SSRE has until October 1st at the latest to vacate the Bunker and is making every effort to find temporary accommodation. A series of setbacks, say students, means the renovation of the club's new premises is still not yet on the cards. Nonetheless, SSRE still hopes to move into its villa on Vestdijk before the summer.
by
Monique van de Ven
Nearly two years since the purchase, the renovation of SSRE's new villa on Vestdijk still hasn't gotten underway. As to what exactly has gone wrong over the past two years, causing the project to run into repeated delays, is something the new board members - like their predecessors - aren't going into detail about.
"Actually it was simply that every step proved more trouble than we'd anticipated and time and again there turned out to be more work than we'd hoped. And because that leaves you wanting to investigate everything thoroughly, you can't get on with the next step," says Daan Hommersom, SSRE's new Housing Commissioner.
TU/e announces by way of spokesperson Ivo Jongsma that it "sincerely hopes the association succeeds in finding temporary accommodation." The university supports SSRE in several ways, he says, financially, for example by buying the monumental villa on the Vestdijk and by scrapping the rent for the Bunker at an earlier date, as well as being lenient about its current premises.
"On six occasions since 2015 we have given SSRE a postponement of their final moving date. But in a couple of months' time ownership of the Bunker transfers to the property developer and then the building must be empty."
The cultural associations currently still housed in the middle portion of the building will move at the end of September to Luna on the TU/e site; "SSRE will be the last one".
Laatste offertes
Laatste stand van zaken is dat de vereniging nog wacht op "een aantal offertes" van één partij. "Zodra die rond zijn, kunnen we de onderhandelingen afronden en kan de verbouwing hopelijk echt snel van start", aldus Hommersom. De aannemer moet zijn planning volgens praeses Van den Eijnde nog maken, "maar we gaan er vanuit dat we er voor de zomer in kunnen".
Op 28 september zit SSRE in elk geval opnieuw om tafel met mensen van Dienst Huisvesting van de TU/e, om hopelijk knopen door te hakken over haar tijdelijke locatie. De vereniging houdt er rekening mee een half jaar tot maximaal een jaar te moeten overbruggen. "Op dit moment vergelijken we alle opties." De TU/e en SSRE hebben volgens Hommersom onder meer over het voormalige pand van kinderdagverblijf de TUimelaar (aan de oostkant van de campus) gesproken, maar volgens hem zijn ook andere locaties elders in de stad in beeld.
Welke alternatieven er zijn, willen de SSRE-mannen niet zeggen - wél dat de tijdelijke locatie wat hen betreft moet voldoen aan twee belangrijke eisen. "We zijn vooral 's avonds geopend en willen geen geluidsoverlast veroorzaken voor de omgeving. Ook moet er een horecavergunning zijn of redelijk gemakkelijk mógelijk zijn, want we willen wel kunnen schenken - dat is toch een beetje waar de vereniging op draait", aldus Van den Eijnde. Verder beseft hij: "Op een tijdelijke locatie zul je altijd wat concessies moeten doen".
In de Bunker kan de vereniging haar boeltje in elk geval snel pakken, verzekert Hommersom. "We wisten dat we er vroeg of laat uit moesten, dus de voorbereidingen daarvoor zijn getroffen. Een deel van onze spullen kan in de opslag."
Actieve adviesraad
Binnen SSRE is inmiddels een nieuwe directie ingesteld, volgens Van den Eijnde een "soort actieve adviesraad" van oudere leden, vorige bestuurders en reünisten van SSRE. Zij zullen het verdere proces actief mee bewaken. Daarnaast was er al een meer 'rustende' adviesraad van reünisten bij wie de studenten zo nodig konden aankloppen.
De activiteiten van de vereniging hebben vooralsnog niet te lijden onder de vertraging, stelt Van den Eijnde - al gaat de agenda voor de komende maanden volgens hem wel in belangrijke mate afhangen van waar SSRE na 1 oktober terechtkomt. "We zijn gelukkig redelijk flexibel én creatief."
De TU/e laat bij monde van woordvoerder Ivo Jongsma weten "van harte te hopen dat de vereniging erin slaagt een tijdelijk onderkomen te vinden". De universiteit steunt SSRE volgens hem op meerdere manieren: financieel, bijvoorbeeld bij de aankoop van de monumentale villa aan de Vestdijk en het eerder schrappen van de huur voor de Bunker, maar ook met coulance betreffende haar huidige verblijf.
"We hebben SSRE sinds 2015 zes keer uitstel gegeven qua uiterste verhuisdatum. Maar over enkele maanden gaat het eigendom van de Bunker over naar de projectontwikkelaar en dan moet het gebouw leeg zijn." De cultuurverenigingen die nu nog in het middenstuk van het gebouw huizen, verhuizen eind september naar Luna op het TU/e-terrein, "SSRE is de laatste".