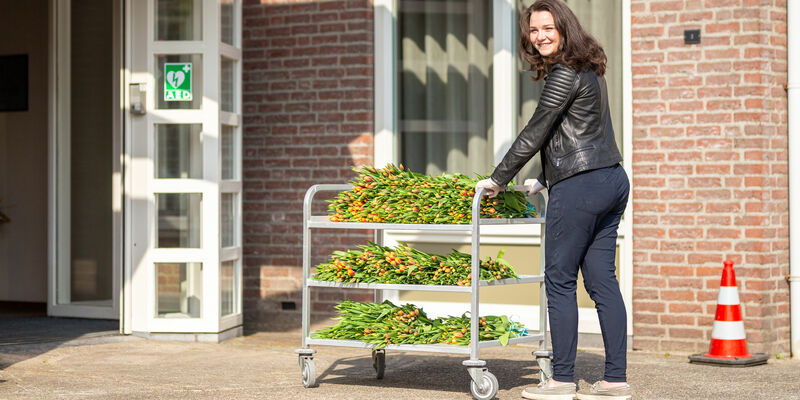 Corona

,

Student

17/04/2020
E.S.C. offers elderly in Eindhoven tulips and help
Members of the Eindhovens Studenten Corps delivered 375 tulip bunches to an equal number of elderly people in Eindhoven this Friday, and included a personal message with their phone numbers. The student association hopes this initiative will help boost morale among seniors, most of whom are forced to live through the corona crisis on their own.
One good example leads to another, the members of the Eindhovens Studenten Corps (E.S.C.) thought. Since it was in fact a similar - and successful - initiative in Delft that gave the student social association the idea for the tulip initiative, says president Hidde Fokkelman. Because, he believes: "The elderly deserve our attention during this difficult period."
The tulip initiative was set up in collaboration with the Gewoon Mensen organization, with financial support from the project Eindhoven Studentenstad and with help from several of the association's members. These last few days, they wrote 375 personal messages on cards - which they could collect at the E.S.C.'s address at the Ten Hagestraat during different time slots - to which they added their phone numbers.
Read on below the photo.
Fokkelman: "This makes it possible for people to contact one of our members for a nice talk, or when they could use some help, with shopping or walking the dog, for example; there are numerous ways to support the elderly during this period. Perhaps it will lead to something permanent, that would be great."
The E.S.C. president emphasizes that the initiative is in accordance with the guidelines issued by the RIVM and was set up in close consultation with the geriatric care organizations in Eindhoven that are involved in the project: Glorieuxpark, Wissehaege and the Sint Annaklooster. "We handed the tulips bunches to the reception, for example, or left them at the door of the residents."