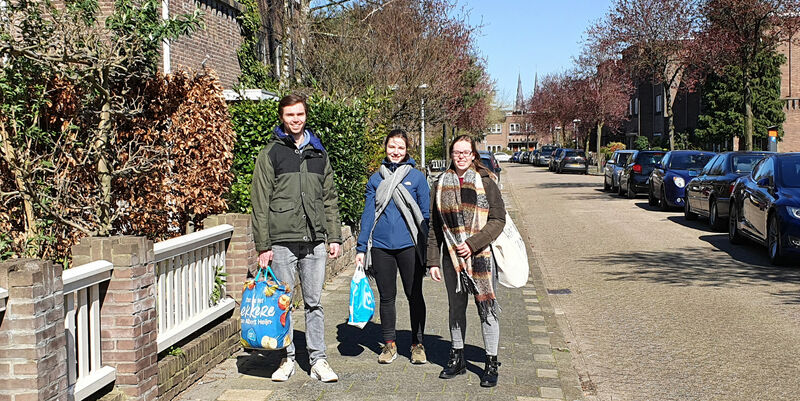 Grocery service by Huize Beets more cumbersome than expected
There is a lot more to it than you'd think; the apparently simple offer to shop for people in the neighborhood. At least that's clear now to the seven students living at the Huize Beets. Despite mediation by the Red Cross, shopping is still difficult; special wishes, paying everything with cash and driving many kilometers by car. But they enjoy doing it and it is a rewarding job.
Industrial Design student Lieke Vermeulen lives with six other TU/e students (one of whom has already graduated and one will start next year) in a house on the Nicolaas Beetsstraat in Eindhoven. Friday March 13, the day that education at TU/e was shut down and she suddenly found herself at the dinner table with her six housemates, sharing the idea to post the offer to shop for others, in the Nextdoor app of the neighborhood. In the main photo Lieke is in the middle, between housemates Stijn and Anke.
"The idea came about because three of us are not only students, but also self-employed and a large part or even all of the assignments we had were canceled. That leaves you with a lot of gaps in the agenda and so we had a lot of free time. With seven people there is always someone who has some time, so it is easy for us to arrange to do something for someone else. Shopping was the first thing that came to our minds, because we don't have a first aid diploma or something like that and can therefore not really contribute in the medical sector, but we can pull our weight," the initiator says.
Red Cross
The message was picked up by local media (Omroep Brabant and Eindhovens Dagblad) and a Red Cross Southeast Brabant employee. The people who can best use the help are more often than not on the Nextdoor app. Now the students are helping people who call the Red Cross helpline. "The Red Cross guarantees our reliability and gave us vests. They also advised us not to give our own telephone number, 'because then people will keep calling about anything and everything'. And indeed; one person who still has my number will also call me if she has computer problems."
Read on below the photos.
The students notice that the people who ask them for help are often less mobile, do not have their own social network and are not really digitally savvy. "We have special requests. Someone wants organic-, lactose- and gluten-free products. Another wants rice from a special brand, for example, because years of experience have shown that it fits her health best. We first pick up the money and the shopping list, go shopping and then bring the things and change to the front door. "
Hoarding
For seven clients, who live apart from Eindhoven also in Meerhoven and Veldhoven, the students take turns and all shop one day per week. They travel quite a few miles with the two cars they have at their disposal. "We have to go to stores of the customer's choice, sometimes for one person to several stores. Due to recent hoarding behavior, not everything is available. It is sometimes difficult to tell that to socially isolated people who are not aware of this," Vermeulen says.
Read on below the photos.
How long they can keep this up is still unknown. "When we started, I thought it would be fun to do it for a week. But now…" Meanwhile, education for five of them has started again. What also started is eating together. Previously, they were often involved in sports training around dinnertime (Levy rows for Thêta, Lieke plays basketball for Tantalus, Dennis plays soccer somewhere outside the TU/e and Myrthe, Stijn and Anke exercise at the SSC) and other social gatherings, but these have now all been cancelled. "We are now also racking our brains thinking of our own groceries. How do you buy groceries for seven people for one week? Ironically enough we want to limit our supermarket visits."
Vermeulen emphasizes that they do not regret offering help. "It's nice to be able to contribute and our customers are really grateful. They tell us, "I wouldn't know what I would do without you." We go the extra mile so people in the risk group don't have to go outside, but it's actually a small step for us. We hope that other students will look around to see how they can help neighbors and/or the elderly, depending on their surroundings."