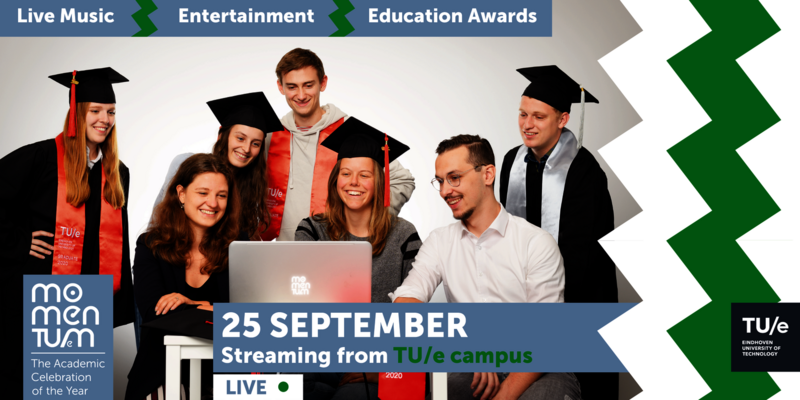 The University

27/08/2020
MomenTUm continues in a modified form
This year, MomenTUm will be a bit different: no parade on the catwalk in the MetaForum market hall, no physical party afterwards. But that does not mean that the graduates are forgotten. Within boundaries, festive alternatives have been found in A MomenTUm For You, inspired by the Dutch TV show 'All You Need Is Love'. You can follow the event live on Friday, September 25 from 4 p.m.
"We really want to create the atmosphere of the previous editions, even though the parade and the party cannot take place," says co-organizer Evie Tossaint. "We'll use a live stream, the link of which will be on our socials as soon as it is created, with both an official part and an informal part. We opted for this because we noticed that the needs of students are somewhat divided: half of the students want more of a ceremony, the other half prefer music and informal things. Now there is something for everyone."
All You Need Is MomenTUm
Just before the start of the official part, the Marina van Damme award, multiple Academic Awards and the Best Teacher Awards will be presented. Then the livestream will start with congratulations to graduates; following is room for a quiz and a special part: A MomenTUm For You, which is based on the TV show All You Need Is Love. You can nominate people who deserve some extra attention. If you want to nominate someone, you can send a message to the organization with the reason why.
Tossaint: "We then choose a few and surprise them on location and everyone can watch from home. This part is going to be pre-recorded. After that there will be live music by, among others, student bands and DJs, who will ensure that you can simply throw a party at home with your own housemates or family. This way, graduating will still feel festive," Tossaint hopes.
The socks
Yes, there will be MomenTUm socks this year. They will soon be shown on the MomenTUm socials (Facebook and Instagram). In recent years socks have been designed for the event and that now almost feels like a tradition. Last year's were cool checkered models with a green border with a TU/e graduation hat and the year. A real collector's item.
Students are off all afternoon on Friday, September 25. The live stream will start at 4 p.m. with the official ceremony, the quiz and A MomenTUm For You. There will be music from 5 p.m. to 7 p.m. That as a replacement for the afterparty of the previous years. There will be no honorary doctorates this year. The graduates of 2020 will also be invited to MomenTUm 2021, to still experience the physical ceremony. "That will be an extra large edition," Tossaint promises.