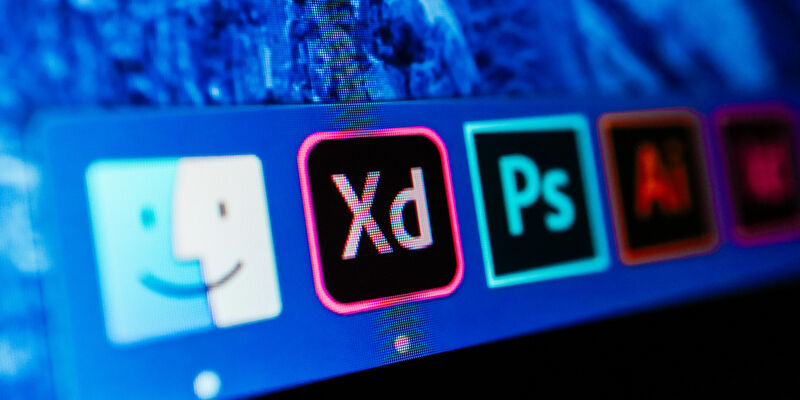 The University

,

Education

13/10/2020
Uncertainty persists about new type of Adobe license for students
The negotiations conducted with Adobe on TU/e's behalf by SURF about a new license have been concluded. But some uncertainty persists concerning the use of Adobe Creative Cloud by students. This is currently a matter of discussion with the SURF senior management team. This software is used mainly by students at Industrial Design and Built Environment. They are worried. Indesign, Illustrator and Photoshop are the programs they use to produce the posters and reports that complete their course work.
Installed on the notebooks offered to TU/e students at the start of their studies are all kinds of software they will need during their student life. Thus, for example, for years now they have received Adobe CC, a cluster of programs most popular at Industrial Design and Built Environment. It may be that for students the license for Adobe lapses on December 31st since it is no longer provided for in a new contract with the United States software manufacturer. On twenty computers in MetaForum Adobe CC will remain available. The situation for TU/e employees is different; they will be able to use Adobe CC come what may.
Benthe Keetels, a master's student at Industrial Design, was informed of these changes last week Wednesday October 7th by way of the ID newsletter, and recognizes this situation as a major problem. "For many courses I have to submit a poster or report and until now I have been producing these using a combination of Adobe Photoshop, Adobe Indesign and Adobe Illustrator, or I produce a video that is edited in Adobe Premiere Pro and Adobe After Effects," says Keetels.
Named user
The change to the contract has not come at the request of TU/e, nor does it reflect the wishes of SURFmarket, the purchasing arm of SURF, and through which TU/e is carrying out the negotiations. It has been imposed by Adobe itself. As contract manager at Information Management & Services (IMS), Pieter Mandos has been involved in the discussion and admits that these are difficult negotiations. "TU/e offers students a notebook on which is installed the software they will need for their studies. The contract with SURFmarket, which will no longer apply as of December 31st, includes a package deal in which SURF 'tolerates' the use of the Adobe license by TU/e students. In the new contract, which has been drawn up for signing, Adobe states that the university can work only with named user licenses, and their number reflects the number of employees at TU/e. The influence TU/e can bring to bear on the course of such negotiations is limited," admits Mandos.
The contract manager is well aware of the huge impact of the new contract on students and has sought alternatives. "Students can order an Adobe CC license from SURFspot, at a reduced fee. But that will still cost them 132.95 euros a year," says Mandos. At the moment, discussions are being held at senior management level between TU/e and SURF to investigate whether any other solutions remain.
Alternatives
The negotiations with Adobe included the option of the Department of Industrial Design purchasing a hundred vouchers for student licenses (for which they would charge the student user 95 euros). Jos Hermus, Managing Director of Industrial Design, says that this option is now off the table because these discounts are not included in the new contract. "Now, under these conditions imposed by Adobe, we no longer wish to act as guarantor for the purchase of a hundred programs," says Hermus. "So instead, we will be putting alternatives on ID Wiki that students can use, and we ask that lecturers bear in mind that as of January they cannot automatically assume that students have Adobe CC." Hermus points out that ID students are not required to spend very much money on books and so they could, he believes, see this Adobe package as 'cost of materials'.
Keetels is familiar with alternative software. "But in the design world Adobe is seen as the standard," she says. Nor are the alternatives as good as Adobe, in the opinion of this master's student. "Compare, for example, Paint with Adobe Illustrator. You have far fewer graphic options at your disposal. It is a bit like comparing Microsoft Word with Notepad. There is an alternative, but it is not entirely sufficient."
Quality
Having to go to MetaForum if you want to use Adobe is something that Keetels does not see as a viable option. "All two hundred students who are now working on their Final Bachelor Project must produce a report to the same deadline. By my estimate, every semester the student body submits a total of seven hundred reports that are likely to have required the use of Adobe. If all these people are relying on the twenty computers in MetaForum, I foresee problems."
The ID student is also worried that this situation will put the quality of the department at risk. "The lecturers have certain expectations of us when it comes to presentations and our graphic output, and it would be a shame if the quality of these products were to decline because we had to use other software. For the rest, it would be a pity if the new generation of designers did not learn to use our sector's standard software. As technical product designers in the job market, we benefit precisely from having a thorough knowledge of these programs. It is one of our great strengths."
Built Environment
Managing Director Suzanne Udo of the Department of the Built Environment is "very unpleasantly surprised" by this state of affairs. She has been informed of this development only at a very late stage. "It is regrettable that we at Built Environment, a very big user of this software it must be said, have not been involved by IMS in the development of the new contract. For the rest, there is nothing more I can say at this stage. I need time to consider the options still available to us."
Dennis Raijmakers, Director of Information Management at IMS, has an explanation for the late informing of Built Environment. "This software is included only in the basis image at Industrial Design and as such the extent of its use at other departments, among them Built Environment, is not visible to IMS. We are now in contact with this department as well as ID so that we can get a good idea of the impact."
At the moment, negotiations with SURF about the Adobe license are still ongoing, Raijmakers tells us. Cursor will report again as soon as more is known.