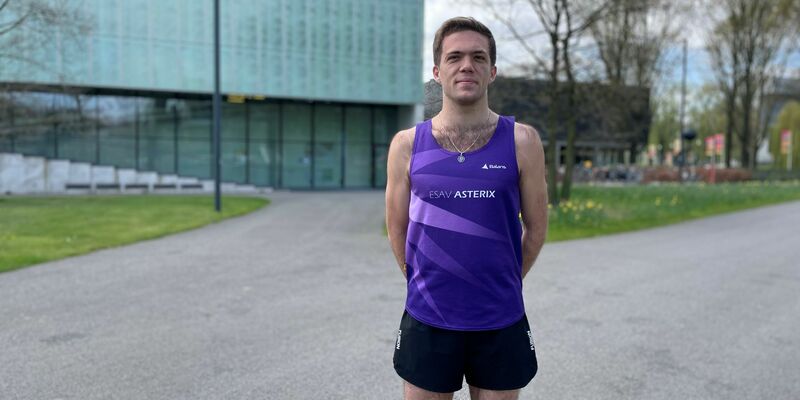 People

,

Sports

22/04/2021
Batavierenrace to start: 'This time, we want to win!'
Domingos Varela Marreiros, second-year Mechanical Engineering student at TU/e, is among the 4200 students who will compete in the second online Batavierenrace these next few days. The relay race, which normally starts in Nijmegen and finishes in Enschede, takes place between Thursday the 22nd and Saturday the 24th of April. Just like during last year's edition however, the students will run individually and in their own cities due to the corona measures. Domingos runs the race as a member of the Eindhoven university team, under the banner of student athletics association Asterix. That is why his team needs to cover a distance of 175 kilometers instead of 125 kilometers in 49 hours.
"I'm a short distance runner. Normally I run the 400 meters, as fast as I can. A 175 kilometers long relay race is something completely different," Domingos says with a smile. But since the student from Portugal wants to play a role in his team's performance, he decided to run five kilometers together with a number of his teammates. "We continued with our training sessions over the past year, so I feel ready for it."
Asterix was able to continue training because the training sessions mostly took place outdoors, and because most members are younger than 27. "We did however have to train in smaller groups due to the corona measures, but that was an advantage actually. The trainer had more time for everyone and I really improved as a result," Domingos says. He kept track of his progress with the Strava app, which he will also use during the race.
"The goal is to win, naturally. Asterix finished in third place last year. We were proud of that, but we're going for gold this time!" There are 25 runners on Domingos' team. "Some of them are long distance runners, their objective is to run 30 kilometers. It doesn't matter in the end how many kilometers individual runners cover, because you run this race as a team. We need to work together to win."