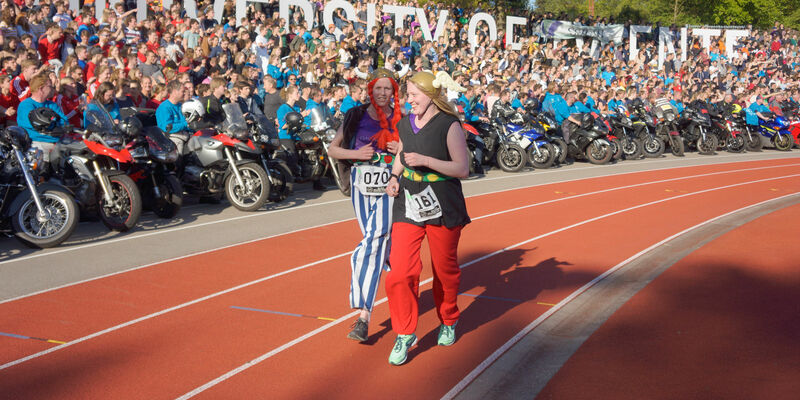 Sports

,

Student

29/04/2022
Batavierenrace back in the game for fiftieth anniversary
Pulling an all-nighter for the Bata: it's finally possible again this year. 29 teams from Eindhoven will travel to Nijmegen tonight. From there they will run to Enschede in stages. After two online editions, the Batavierenrace has returned to its 'old style'. Luckily, even after two years, there are still loyal Bata fans who know about all the ins and outs of the relay race, says Bente Scholman, who is a member of the Batavierenrace committee of ESSF. "It's just such a fun event that people keep participating."
Going for a run in the middle of the night, all sleeping in a scouting building together, partying and camping on a campus. These are the things that make the Batavierenrace worthwhile, says Scholman. Just like her fellow committee members, she's also a member of student athletics club Asterix. This year she joins the 'beer team' of the association. "That team joins for fun, I'm not fast enough for the University Classification", says the student, laughing.
Real Bata
In 2019 Scholman joined the relay race for the first time. Then followed two online editions. "You couldn't compare those to the real Bata, I decided not to join for that reason. I need the sensation and the atmosphere of the event." Now the race is back in its previous form, she decided to join the committee. That consists almost entirely out of new members this year. "Thanks to one older member that had been part of the organization before, we knew what to do when. If not for that person it would have been more difficult." It's one of the consequences of the fact that the race was put on the back burner for two years.
One of Scholman's tasks was to recruit members for the TU/e-Fontys Team Eindhoven. How that team will perform she can't predict because of the circumstances. "We have tried to find the fastest runners, but it's hard to know in what shape everyone is at the moment. We haven't had any competitions for two years. I've heard that the team in Nijmegen has some of the best runners of the Netherlands, it'll be hard to beat them. We'll see how far the team gets."
Popular
A big part of the TU/e-Fontys Team exists of new runners, but some of them have participated in the Batavierenrace before. Two years of pandemic haven't had a big influence on the popularity of the biggest relay race in the world. This year, about eight thousand students are taking part in the race. Next to the 'university team', another 28 teams from Eindhoven signed up for the General Classification, the team of Asterix is one of them. Also that team has quite some 'old-timers'. "It's just such a fun event that people keep participating", says Scholman.
To experience the relay race to the fullest, you should run the night stage, according to the student. "It's just one big chaos. If you can't handle stress, you might not enjoy it as much, but I'm thriving in those circumstances. First you go all out during the race and after that you go and eat Chinese food and party. Then you sleep in tents on the campus in Enschede, in the rain or cold. This year we have to leave early on Sunday, because Asterix has competitions going on. It's a weekend of very little sleep, with lots of fun." Especially the team spirit makes it special, says Scholman. "I'm a technical athlete and don't join the running training. I don't even like running, but for the Bata I'm willing to run five kilometers."