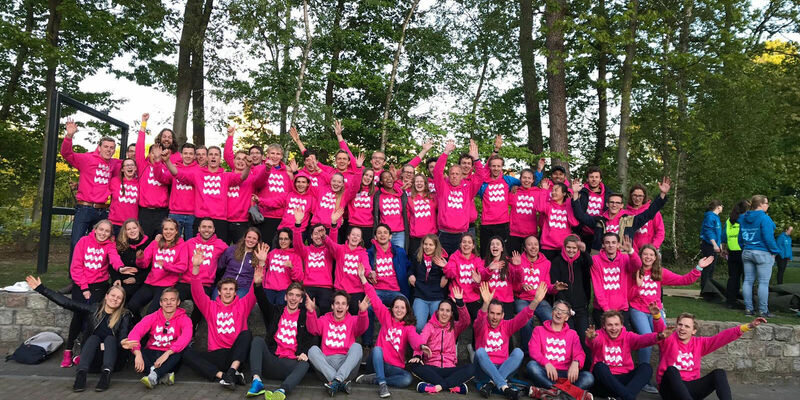 Corona

,

Sports

,

Student

24/04/2020
Team Eindhoven runs Batavierenrace digitally
The Batavierenrace, the relay race that starts in Nijmegen and finishes in Enschede, is one of the year's most popular events among running students. The 48th edition has been cancelled due to the corona crisis, but a digital version will take place however on 1 and 2 May. Team Eindhoven will take part in it; each runner in his own time and at a location of choice.
Casper van der Putten, chairman of student athletics club Asterix, says that the members of Team Eindhoven were hugely disappointed when it was announced that the Batavierenrace won't take place this year. "For us, it's one of the best events of the year. I believe this is because of the relaxed, festival-like atmosphere, in combination with the team spirit the race always brings about among the runners, who normally practice sports mostly individually."
Practicing sports individually has become the norm now. The organization of the Batvierenrace has set up a digital version, one that doesn't lead to group formation because the runners no longer follow the fixed route. The idea is as follows: participants run one stage of the Batavierenrace individually, while strictly observing the RIVM rules. The team needs to collectively cover a distance of 125 kilometers. That's shorter than the 175 kilometers of the 'physical' Bata, which consists of 25 stages.
Support
At Asterix, they were immediately interested when they heard about this possibility. "Team Eindhoven will certainly take part in this. This way, we try to on the one hand express our support for the organization of the Batavierenrace, which spent a year serving fulltime on the board organizing this cancelled edition," says chairman Van der Putten, who is also team captain. "In addition, we try to create that little bit of team spirit among our runners, who currently don't have any other races they need to train for anyway."
Team Eindhoven will be represented by seventeen runners during the virtual Batavierenrace, these are students from TU/e and Fontys, and non-students. Two teams took part last year, they are depicted togehether in the main photo.
Van der Putten, who took part in previous editions seven times already, has come to terms with the new, online version of the race. "We will make the best of it. The teams are supposed to complete the distance of 125 kilometers together on 1 and 2 May. The individual runners will complete their part of the distance in their own time and at a location of choice, after which they will record their result via a running app, like Strava or Runkeeper. Some of Asterix's team members will even run their distance in Germany and Luxemburg. They went back after graduating and now join as former members. I will certainly run a stage as well, perhaps seven kilometers, in the surroundings of the Oirschotsedijk."
In the end, the team captain will send the team's complete recorded results to the organization of the Batavierenrace, which will then draw up a ranking list. "That ranking will however be mostly symbolic, because more than ever before, the idea that taking part is more important than winning applies to this edition!"