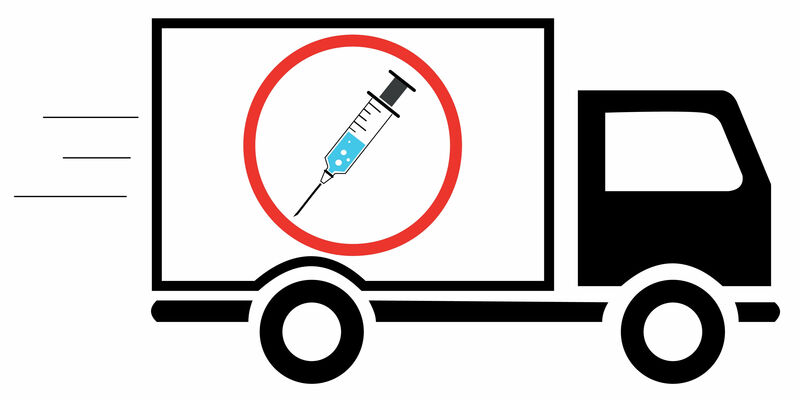 Corona

,

Research

11/01/2021
"Bring the vaccine to the people"
A group of logistics experts from the European Supply Chain Forum proposes to have the bulk of the corona vaccines brought to people's homes and administered in their familiar environment. A hundred trucks outfitted for refrigerated transport with four to ten 'jabbers' should suffice. According to associate professor Willem van Jaarsveld of the Operations, Planning and Control (OPAC) group, this is faster and safer than having everyone travel to central locations.
Apart from Van Jaarsveld, the European Supply Chain Forum team is composed of assistant professors Sonja Rohmer and Virginie Lurkin (both of whom also work at OPAC) and practice experts Jannie van Andel and Edwin Wenink. They are specialized in, among other things, the logistics of fresh and cooled products and stock management. "I myself was also involved in research into vaccination logistics," Van Jaarsveld says. "However, the current campaign poses unique challenges."
The main conclusion of the team of logistics experts is that people shouldn't come to the vaccine, as is largely the plan right now, but that the vaccine should be brought to the people instead. Van Jaarsveld: "We are in lockdown in order to limit travel movements as much as possible and to avoid contacts. Having large groups of people travel to central locations is too great a risk, especially when you consider that many people depend on public transport for that. The most important thing we want to prevent is a situation that will lead to many unnecessary travel movements" That is why it's more logical to reverse the process, he argues: "Most people are home now anyway, so you could organize that quite efficiently."
It's also much more efficient to bring the vaccine to the people, even apart from the lockdown, the team believes. Van Jaarsveld compares the logistical challenge to that of parcel delivery: "That works well here in the Netherlands, you're even informed via mail when your order will arrive at your home. Our calculations tell us that you could distribute the vaccines in a similar fashion with mobile jab teams." This approach could even work for the Pfizer/BioNTech vaccine, which needs to be stored at -70 degrees Celsius. "We've studied the EMA instruction leaflet, which says that those -70 degrees only applies to the delivery process up to and including storage." Since the vaccine can be stored at refrigerator temperature for five days, distribution could easily take place via regular refrigerated transport, the team says.
Few losses
The logistics expert says that it would take about a hundred medical teams, combined with refrigerated transport and consisting of four to ten 'jabbers' and auxiliary staff, to administer the vaccines practically without losses. "We have more than enough refrigerated transport that meets the proper specifications in the Netherlands, and we have enough logistical partners to work together with. The RIVM takes into account losses of up to ten percent with small-scale distribution via general practitioners. That's far too much as far as we are concerned. I expect that no more than one percent of vaccines will have to be thrown out with the approach suggested by us. Since mobile teams and rotating shifts allow you to work almost continuously, the remaining stock will be negligible."
The central locations will continue to exist, as far as Van Jaarsveld is concerned, but as backup for people who couldn't be reached at home. "People who work on location, such as police and healthcare professionals, can get vaccinated at their place of work." In addition, the method with mobile teams can easily be scaled up. "With central locations alone, I wonder whether it will be possible to vaccinate everyone in a responsible way before September. That would be a shame, because contrary to what you read and hear in the media, logistics isn't the bottleneck in the vaccination process. We believe that this proposal will save time, so that everyone will have been vaccinated well before September."