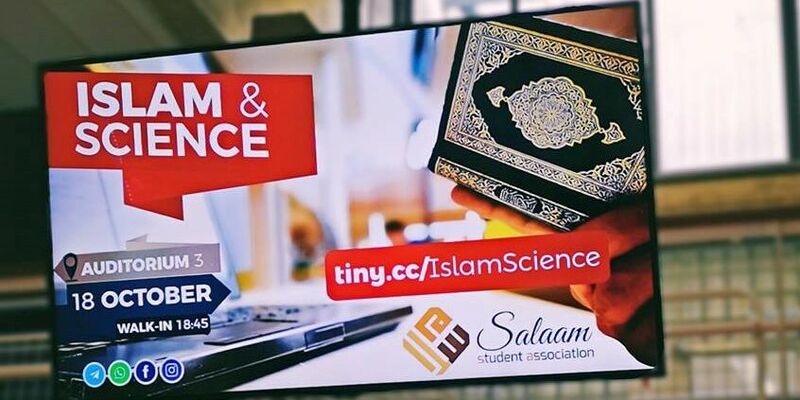 The University

,

Student

13/10/2021
Salaam board welcomes support from the university
The co-founder and former board member of student association Salaam, who is currently in custody with eight others on suspicion of preparing terrorist acts, hasn't been active within the organization after his graduation in 2019, current chair Amaan Valiuddin says. According to Valiuddin, his association received much support from university staff members as well as from other associations.
Amaan Valiuddin says that the article published by newspaper NRC Handelsblad on Thursday 7 October falsely claims that Salaam's co-founder acted as the association's official spokesperson between 2017 and 2019. "His position as pr-manager was translated by NRC as spokesperson, but Salaam actually had several spokespersons over the past years. This person was never our official spokesperson. He was mainly active as a designer of posters, banners and flyers, and he was involved in the setting up of social media campaigns for events. After that, he provided us with some feedback on our designs for a while. His involvement with Salaam never went beyond these activities."
Eindhovens Dagblad, the local newspaper, announced this afternoon that all nine suspects will remain in custody: seven of them for another two months and two for one more month. Investigators need more time to examine all laptops and data carriers that were confiscated during the search of the suspects' homes. This investigation needs to answer the question whether the suspects had concrete plans, or whether it was just a matter of bravado.
Shocked
Valiuddin finds it regrettable that his association and its members are now being linked to the case involving the terror suspects. Valiuddin: "We ourselves are carefully following the news to find out what happened exactly. Like everyone else, we as an association were shocked by what we read in the media. On top of that, we were overwhelmed by journalists who had all kinds of questions we couldn't answer, and unfortunately also by the suggestion that there was a link between what people read in the news and our association."
Salaam wants its members to feel proud of the city of Eindhoven and its university, according to the current chair, who obtained his master's degree this year with excellent grades and who is currently preparing for a doctoral period at Electrical Engineering. "We want to bring out the best in our members by facilitating them in an important need: to feel at home. This has become an increasingly important issue at TU/e, think of the university's efforts to prevent undesired behavior. We are glad that we can contribute to this."
Events
Salaam has organized several successful events and initiatives over the years, Valiuddin says. "Think of the quiet room, where Muslims and other persons of faith, among others, can quietly say their prayers in between lectures, or our well-known Iftar evenings during the holy month of Ramadan." And Salaam is active off-campus as well. Valiuddin: "On four occasions, we assisted thousands of citizens, together with the municipality of Eindhoven, law enforcement agencies, the police, the fire department, the public health service and mosques with the organization of a corona-proof Sugar Feast prayer."
It's very important that Salaam's board maintains good contact with the university, Valiuddin says. "And that we were able to properly inform our members about how to handle our presence in the media. We've heard from our members that they too are deeply shocked by the media coverage and the suggestions that have been made." But the board also says that the members are doing fine at the moment.
Valiuddin: "We are in contact with several associations and staff members at TU/e. They help us not only on a personal level, but also with how to deal with the media. We are verry happy with the support that we got and are still getting, and it greatly increases our feeling that we are at home on the campus. So far, we haven't had contact with the Executive Board, but umbrella organizations have stepped forward with initiatives to voice their support."