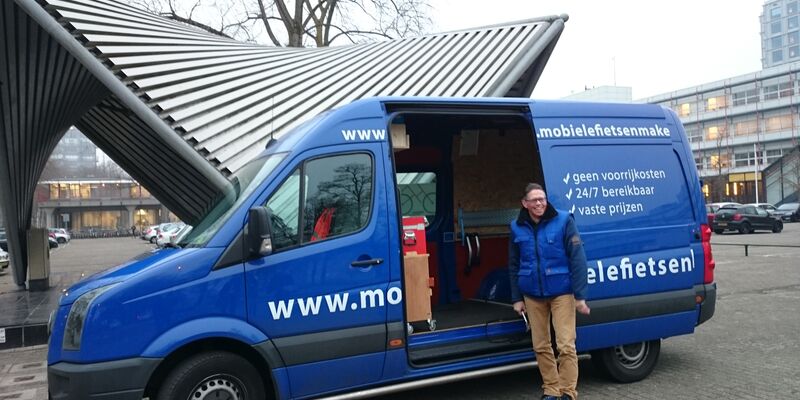 Mobile bicycle repairman on campus
The TU/e Campus is getting a bicycle repairman again. As of Monday January 30 'mobile bicycle repairman' John Hermans will be located in Laplaceplein during lunchtime for four days a week. In addition, he will come to the campus for repairs by prior appointment (via WhatsApp) – if necessary also at night and during the weekend.
For the next three months, bicycle repairman John Hermans will in any case be present near the art work in Laplaceplein between 12:00 and 13:00 hours on Monday, Tuesday, Thursday and Friday with his blue company van. After this period it will be checked whether there is sufficient demand for the mobile bicycle repairman, who also has equipment in his van to read electric bicycles and allows customers to pay electronically.

Since the bankruptcy of the Groene Fietser last summer there have been various parties that have expressed an interest in taking over the location (G building, next to Het Paviljoen), says Emiel Westerhof, real estate manager of Real Estate Management. "However, the problem was that this building was no longer adequate; hence the decision was made to pull it down. For us a mobile bicycle repairman, who does not need any premises, is an ideal solution."

In order to make it possible temporarily to park bikes that cannot be repaired at once, TU/e provides access to the secured bicycle shelter under the Traverse building, at a stone's throw from the pitch of Hermans's van. "This is quite important for electric bikes in particular", says Westerhof.

Bicycle repairman John Hermans himself boasts a (modest) TU/e past: in the late 1970s he studied Mechanical Engineering here for a while. After a career in ICT Hermans decided two years ago to turn his hobby into his profession and retrained to become a certified bicycle repairman. Now that the electric bike has really made a permanent appearance, Hermans's background in ICT stands him in good stead. Not all bicycle repairmen are knowledgeable about all the electronics and software in e-bikes, he explains. "In Eindhoven you even have bicycle repairmen who do not repair electric bicycles at all."

Since last year Hermans has been active with his van in the Eindhoven region, including the TU/e Campus. He was also involved in a student action for Serious Request, whereby students could have their tires pumped up. This gave him the idea to turn the cooperation with TU/e into a more structural activity, which has now led to the three-month trial period.

Up to now he has been quite satisfied with his new career, he says. "You get to see all kinds of places. I've already had to travel to a remote farm where I had to repair just about all the bikes of the whole family." There is a decided need for mobile bicycle repairmen, then. Besides, this is a very gratifying profession. "They are happy to see me arrive, and even happier to see me leave again!"

More information about rates and contact can be found on the website of John Hermans (in English).