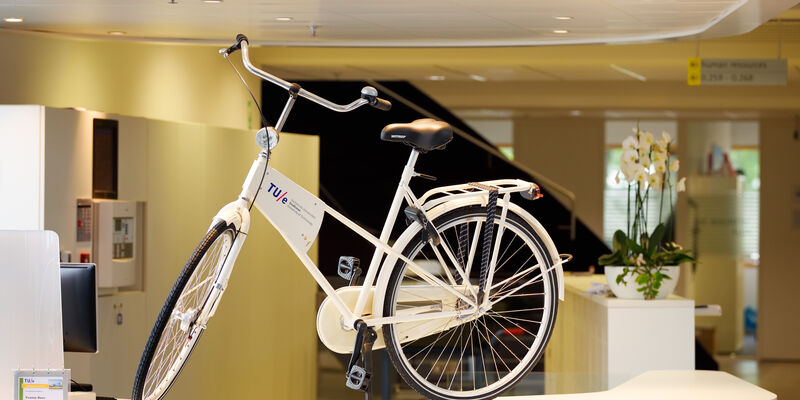 Service bicycles to get TU/e employees out of their cars
TU/e has purchased sixteen bicycles for employees to loan, both for use on campus and to attend meetings elsewhere in the city. This is one of the projects by which the university is promoting and supporting sustainable transport. The bicycle will play a key role in the coming years.
TU/e's mobility survey revealed in April 2016 that a service bicycle was on the wish list of many employees. It seemed that acting independently of one another, various departments and services had already purchased bicycles, "but you could easily find they are all out on loan. Or be suddenly confronted with a puncture," explains Bert Verheijen of Real Estate Management. "We want to deal with problems like these and get the locations right."
He hopes that in particular employees who drive to the campus because later on they have a meeting in the city will be persuaded by the availability of the service bicycles to opt more often for another form of commuter transport.
The sixteen white bicycles have been assigned spots at Flux, Traverse, the Paviljoen, Vertigo, Helix and between MetaForum and Gemini. Anyone wishing to borrow a bicycle - free of charge - can register in advance at the reception of one of these buildings.
At some later stage it may be possible to reserve bicycles online, "but right now we want to get started as quickly as possible, with a system that invites participation," says Simone Vonken, policy officer at Internal Affairs. If the service bicycles prove popular, she wouldn't exclude the possibility of the collection eventually being extended with more and perhaps other types of two-wheelers.
In other ways too, TU/e is trying to motivate and facilitate the (potential) cyclists among its employees. The mobile bike repair service recently piloted in Laplaceplein will become a permanent fixture; campus residents with bike problems can come here for repairs every Monday, Tuesday, Thursday and Friday from 12.00 to 13.00 hrs.
In addition, four new bicycle repair posts have been purchased, which TU/e employees can use to carry out minor repairs. They will be installed in the bike shed between MetaForum and Gemini, under the roof canopy at Flux, under the pedestrian bridge at Matrix and at the Auditorium. The repair post already in use at the Auditorium will relocate to the Paviljoen.
For some time already, TU/e has been busy replacing all the bike sheds on campus with racks with front-fork support. This reduces the likelihood of damage to the bicycle. Also underway is a European invitation to tender for a further four to five thousand (replacement and extra) bicycle parking spaces, for which a sum in the region of 100,000 euros has been allocated in this year's budget.