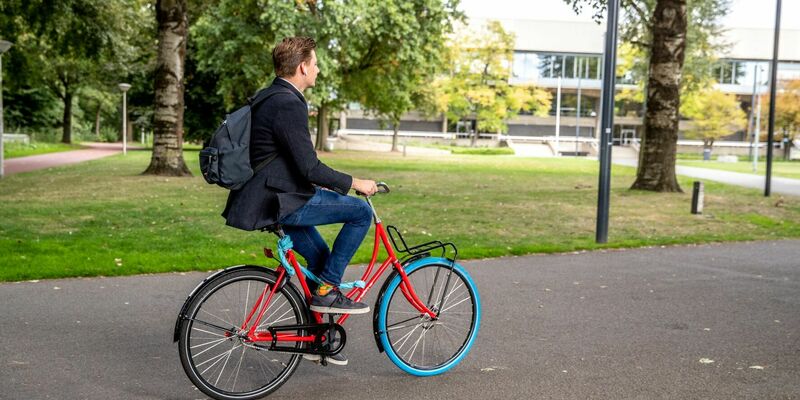 Campus

,

The University

18/05/2022
Bicycle Pitstop as a catalyst for mobility plan
Because of national 'Cycle to Work Day,' TU/e students and staff members will have the opportunity to have their bicycles checked by professional bicycle mechanics on campus tomorrow, May 19. The so-called Bicycle Pitstop will be located next to the kiosk on the Laplaceplein between eight thirty in the morning and half past one in the afternoon. This service is one of the ways in which TU/e, Brainport, Fontys and Summa hope to stimulate students and staff members to cycle to their study or workplace more often. The university is working on a new mobility plan for this purpose.
TU/e is working on a new mobility plan that encourages people to cycle or walk to work and discourages them from using their cars. Simone Vonken, policy advisor Mobility at Real Estate, says that the university has taken several steps over the past few years to make this transition possible, but that the goal hasn't been achieved yet. Vonken: "We've added extra bicycle racks, and a number of buildings have lockers where people can leave their cycling clothes. And the introduction of a paid parking system has also contributed to a policy of discouragement."
A working group, in which several services are represented, is working on a new mobility plan that needs to be finished in early 2023, Vonken says. The plan will take into account facilities as well as terms and conditions of employment. Vonken: "You could consider adding extra bicycle parking spaces, or you could provide facilities such as lockers, a bicycle repair shop on campus, or a service bicycle. By offering them the right facilities, we want to persuade students and staff members to make more sustainable choices. Terms and conditions of employment too play an important role when it comes to persuading employees to make sustainable choices. These conditions will also be taken into account in a new mobility plan." However, nothing is finalized yet at this point, Vonken says, and employees will be asked to fill out a survey on this issue within the foreseeable future.
Bicycle repair shop
Almost fifty percent of students and staff members travel to campus on bicycle, the mobility officer says. "That's definitely an impressive number that we as a university should be proud of, but we aren't there yet. We could still take some further steps to increase our efforts to meet the sustainability challenge. It's important to have good bicycle facilities on campus. A sufficient number of bike sheds, high quality racks, bicycle pumps, and possibly even a repair shop."
The working group also conducts counts two to four times a year in order to monitor the need. Such a count took place at the start of this year, Vonken says. "These counts show us the occupancy of a certain bicycle parking and whether or not we should expand that parking. Why is it, for example, that a parking like Auditorium North-West is used les often than the one at Atlas? Is it because students and staff members have more difficulty entering the bicycle parking at the Auditorium, or is it because the facilities at Atlas or Auditorium South are located nearer to the entrances of one of those buildings? One of the ways in which we try to make students and staff members more aware of this, is by placing signs that direct them to the parking at Auditorium North."
Mobile bicycle mechanic
The TU/e campus used to have a bicycle shop once where people could have their bicycles repaired, as well as several mobile bicycle mechanics, but the latter option ceased to be profitable when the COVID-19 pandemic hit. Vonken promises to look into this again. "During the further development of the new mobility plan, we will investigate the possibility of reintroducing this service. It seems that people had a need for this service in the past. When that's no longer true, a bicycle mechanic won't have a profitable business case, which means that we will not reintroduce this service."
Two employees will be present on campus on Thursday May 19th between 10:00 and 11:00 hrs. to provide information about TU/e's Bicycle Plan. This, incidentally, isn't the first time that TU/e will take part in 'Cycle to Work Day.' When the university took part in 2018, Cursor asked students and staff members what reasons they had for not taking part.