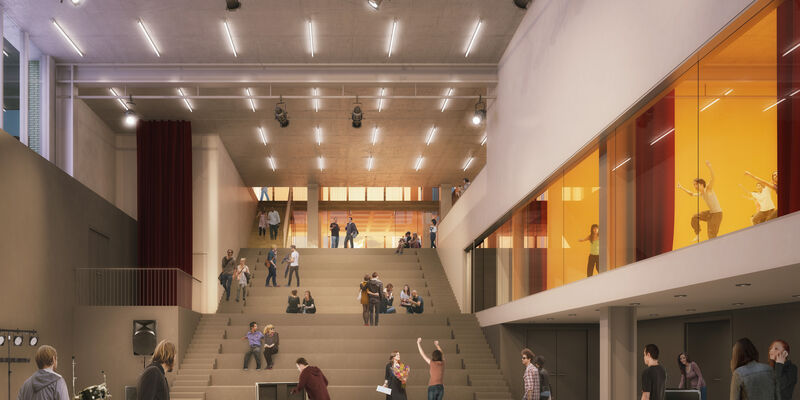 De Plint puzzle almost complete
It is almost entirely clear which associations and other organizations will relocate to De Plint, the lower floors of the Luna residential tower. Renovation work, which has just begun, must be finished by July 28. This will enable the associations to present themselves in their new premises during Introduction Week.
"It is good to have culture sited centrally. It also livens things up on campus; the arrival of Bar Potential will certainly help in that respect." This is the view of Collin Wagenmakers, former board member of the student dance association Footloose. With Freek Beekhuis (Doppio) and Sabine Jongerius (Quadrivium), he has been involved in the planning since they all did a board year in 2015-2016.
The association representatives are in two minds about the move from the Bunker to Luna. On the one hand, they are really curious and hope that the associations will work together more closely. On the other hand, they will have less freedom than they had in the Bunker and it will be a step backwards in terms of space, say all three.
ESMG Quadrivium, ESMG Modern, the big band Studentproof, ESTV Doppio, ESDV Footloose, ESFF Dekate Mousa, ESRG Knights of the Kitchen Table, JCES Kinjin, cultural federation Scala, Integrand, Unipartners, Wervingsdagen (Recruitment Days) and FSE are due to relocate to De Plint. In addition, Euflex and the child care center Korein are planned to move into the building, and possibly the hairdressing salon. Ichthus will be able to use the space and TINT will be found there more often.
In principle the bar will be managed by Team Bar Potential. They must also offer space to the staff association for its activities. Moreover it was recently announced that Studium Generale (SG) will probably have to hold its events in De Plint. As of the summer, SG will no longer be able to use the Gaslab.
Associations may have to pay a contribution to De Plint. They don't yet know the sums involved and how the financial burden will be shared among them. "As associations, we are trying to come up with some criteria, but which criteria should we choose?" says Beekhuis. "It would be a shame if this were to drive up the membership subscriptions. That might mean the end of some associations."