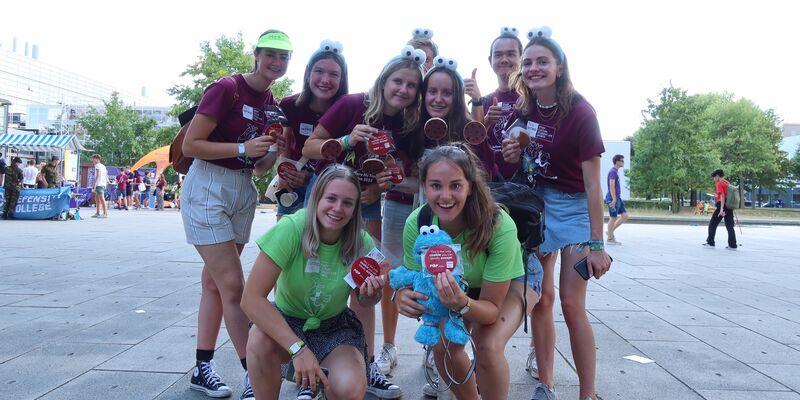 Campus

,

Intro 2022

23/08/2022
Intro 2022 | Stroopwafels for Cookie Monster
If you're sensitive to stimuli, it's best to avoid the TU/e grounds on Intro Tuesday. Because that's when the Campus Market takes place, where all of the student associations, sports clubs, cultural societies, philosophical groups, student teams, interest groups and study associations that the university has to offer – plus a few external parties – present themselves to the new first-year students. And that means lots of games, noise, water, assault courses, dress-up parties, balloons, handouts, promo pitches, demonstrations and performances.
At the Campus Market, every association or organization aimed at TU/e students pulls out all the stops to catch the eye: competitions, prizes, photobooths, handouts and spectacle. But the visitors themselves attract a lot of attention too: many Intro groups have donned festive apparel including Cookie Monster eyes, feelers, halos, bridal veils, Smurf hats, sombreros and chef hats.
Knight
On the KOE field, you can find the cultural and games associations. Dozens of students are quietly playing chess at Noesis' booth, while the guys from pop association Modern are worrying about their music equipment, which is overheating in the sun. A knight, who belongs to games association Knights of the Kitchen Table, stands in the heat, unperturbed, despite wearing twenty kilos of armor – he says he's used to it from outdoor roleplaying events.
There is also a lot to see on the field between the Aurora building and the sports center: constructions made by the student scouts, the shiny chrome of motorcycle club ESMC, old-timers from the Beunhazen and even an entire sailing boat from sailing association Boreas. Athletics association Asterix has set up a sprint course of twenty meters – which is doable even with a hangover. The same can't be said for the seven-meter-high climbing wall set up by climbing association ESAC.
Tea
The Markthal is where the religious and international associations are gathered today. Islamic association Salaam has created a relaxing atmosphere by offering a tea tasting. In front of the Atlas building, you can find the external parties – such as political party Volt and shared scooter company Felyx – but also TU/e's Privacy Team, for example, which is handing out stroopwafels under the slogan 'This is the only cookie you can blindly accept'.
Finally, the social and study associations can be found on the Flux field, where the seasoned students of rowing association Thêta are toiling away on rowing machines in the blazing sun. Fortunately, there is a water track nearby to cool off.
Photographer Rien Boonstoppel captured the atmosphere at the Campus Market on camera. A selection of his photos can be found below (click to enlarge):